Dancing With Trees
Art exhibition concepts, statements
"We are all touched at some point by the beauty of trees, their significance to us, and to the health of our home, the Earth. Creativity is the excellence that humanity has to offer. We have come full circle in the sense that it plays a vital role in our present responsibilities toward our future, and possibly the existence of the  planet itself.
...our carbon footprint is worthy…
___________________________________________________________________________
Unfortunately the entire look of pages on this website has changed due to basic program/server updates. Each photo needs to be re-uploaded and pages redone using new Tables. This will take quite some time to upgrade, so please have in mind that I will work on this when possible. Thanks!
___________________________________________________________________________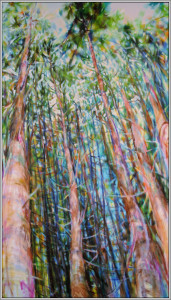 Photography, paintings in acrylics, an oil pastels series, watercolors, and mixed media pieces are inspired by travels throughout the United States and Canada, to Mexico, Costa Rica, Australia, Singapore and China. For a comprehensive view of the scope of this exhibition, this website functions as the foundation where all related concepts are organized, abstract and literal. Photography is compiled into sets, and the art is available to purchase online.
Life on this planet ultimately depends on the existence of trees. While the message is urgent, I consider humanity's role on the planet as positive, with the statement that creativity is our greatest asset, stressing that "Our carbon footprint is worthy". Further, creative thinking is our most primal, yet highly advanced and ever-evolving contribution toward solutions to healing wrongs done, and changing ingrained habits to ones that are more appreciative of the environment in general.
The "Dancing With Trees" exhibition, formerly named "The Majesty of Trees" premiered at the Museum of Natural Sciences in Raleigh, North Carolina in June, 2009 and May 1st through June 30th, 2010, 23 paintings were on exhibit in the Steinhauer Trust Gallery at the University of Wisconsin-Madison Arboretum.
Please direct emails to nikki_coulombe@hotmail.com
This website was updated in January 2016