The Angel Oak
---
---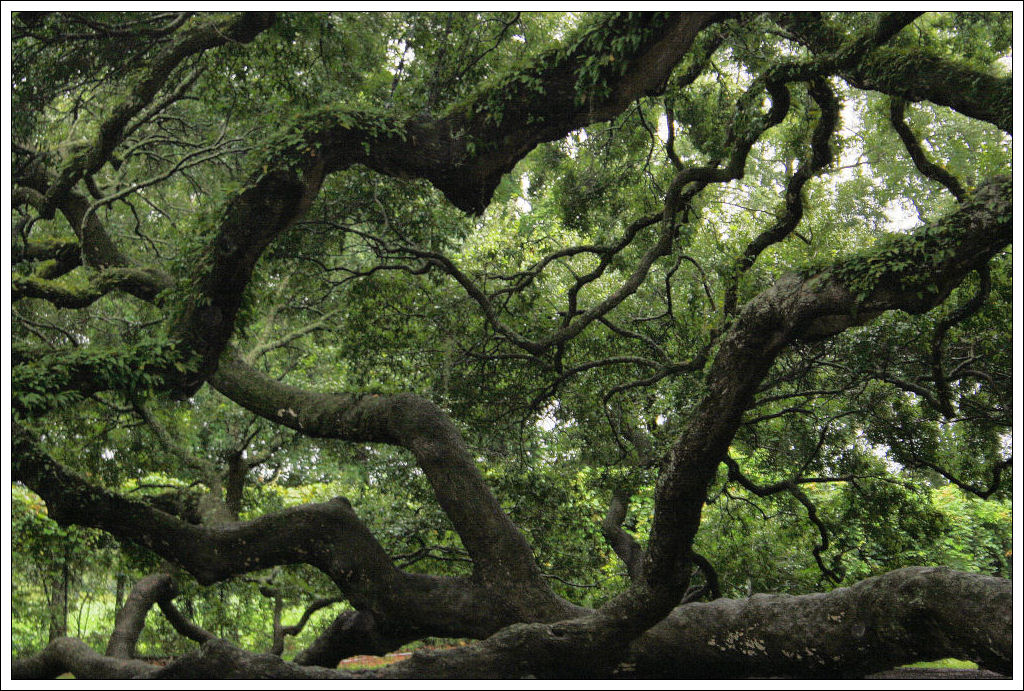 Thanks to individuals rallying together and signing the petition, we are reassured that small efforts can and do make a difference on this planet. The land surrounding the Angel Oak is no longer in jeopardy. http://www.savetheangeloak.org/
~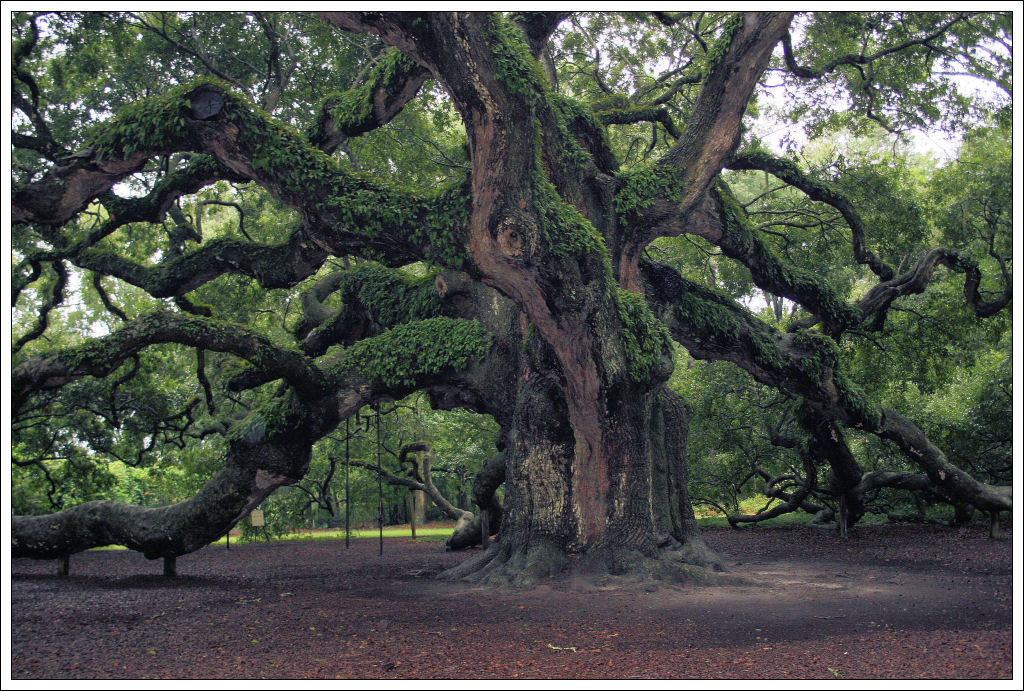 This set of photos honors the efforts of a petition to halt construction on John's Island, South Carolina that would encroach on an area of land boasting an Oak tree estimated to be between 1,400 and 1,500 years old.
Charleston, SC is proud of its heritage and respected for its commitment to preserving history in the area, so residents hoped that plans will not proceed to cut down nearby trees and forest in favor of land development.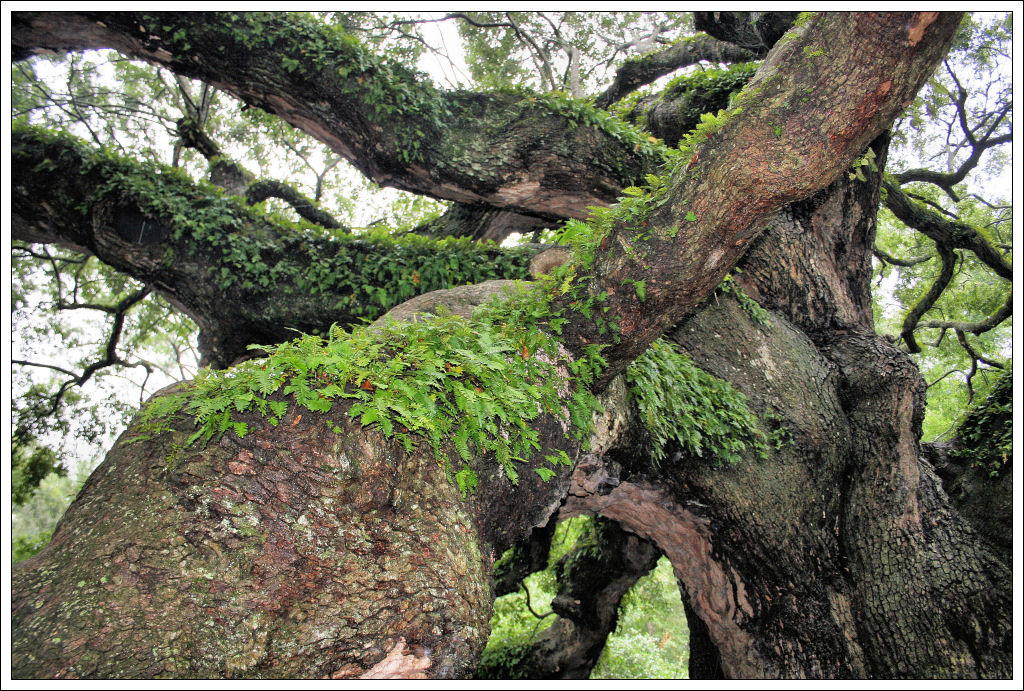 On the petition link there are pages of interesting comments and pleas from residents who have fond memories of climbing the branches as children, plus exclamations by tourists who have visited the area specifically to see the Angel Oak, and the tree is so significant to locals, a nearby elementary school carries its' name. Picnics, weddings and reunions are held to this day in the Angel Oak Park free of charge, including an annual summer Arts event, "Evening under Angel Oak" featuring live music, drama and other activities.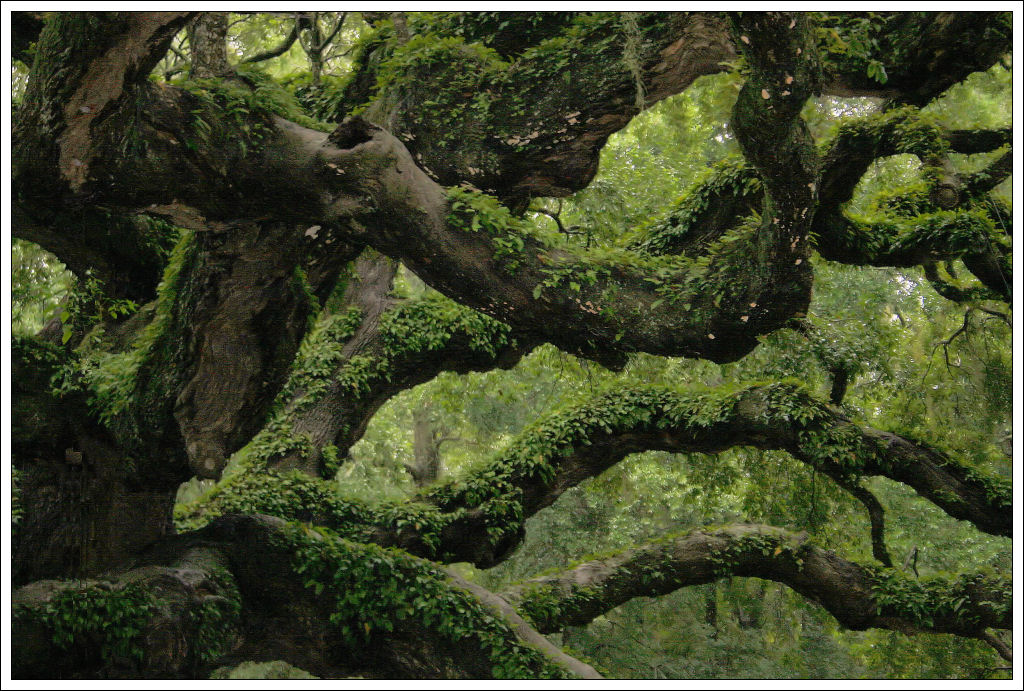 During August, 2008 my husband and I drove through South Carolina and took a short detour to John's Island. We drove through wicked rains at the edge of Tropical storm Faye, so when we arrived at Angel Oak park no one else was there. Fortunately rain subsided long enough to take photos. The tree trunk and lower branches are so immense, they have been propped up with stakes and heavy cables here and there, which is a little intrusive when taking photos, but obviously necessary. Growth is spread outward more than upward, occupying an enormous space at least 150 feet wide.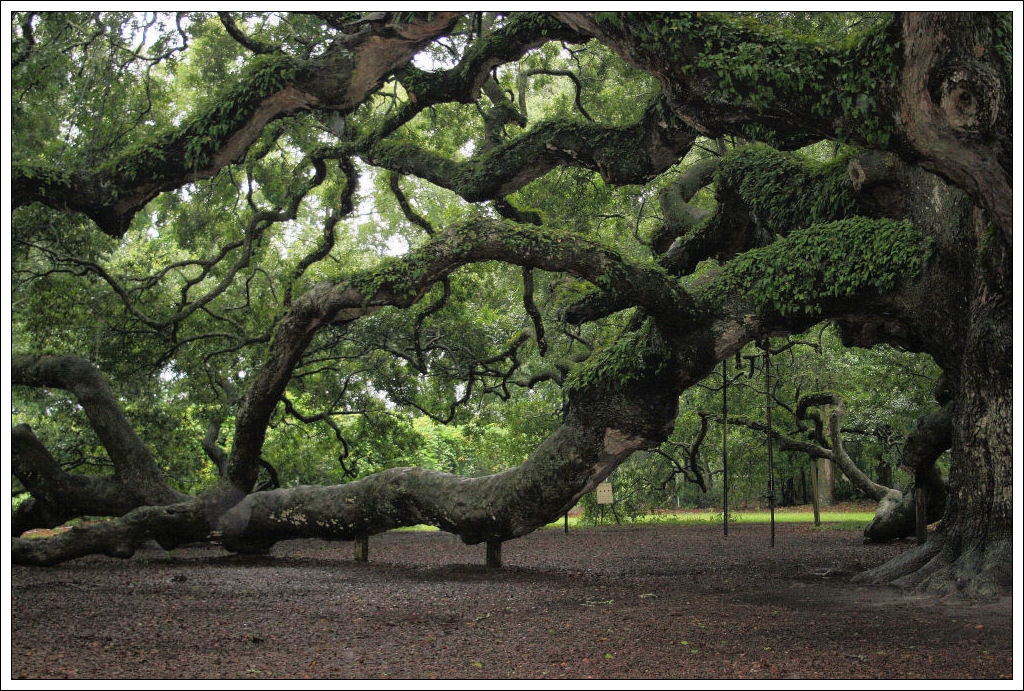 It occurred to me that this tree has lived through one serious chunk of history, and wondered what was happening on our planet when The Angel Oak was knee-high to an acorn? 1400 years ago it was the year 608 A.D., Common Era. Almost everything we are familiar with; our collective modern identity has been shaped by many of the events and people who lived and died since the Angel Tree established its first roots in the earth.
Angel Oak's parent-tree was undoubtedly alive for centuries before and during the year 476 A.D. when the last of the Roman emperors died, bringing about the Fall of Rome. Around the 7th Century A.D. an acorn falls from one of the magnificent Oaks on the southeastern shores of a land only known to the indigenous peoples; a land we now refer to as North America.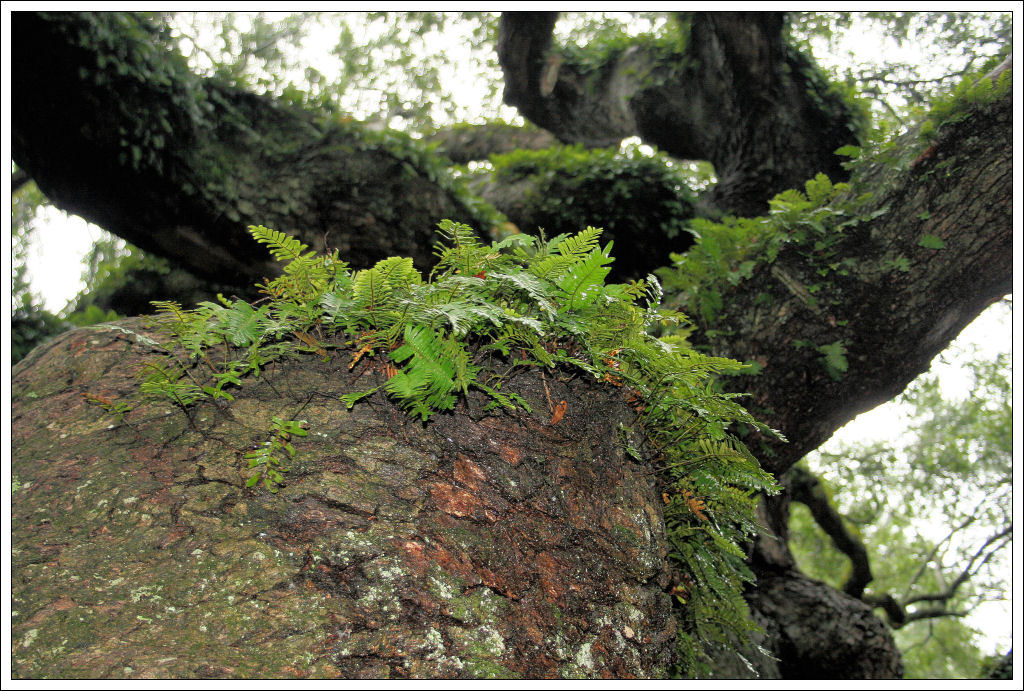 The acorn sprouts along with many others…but this one will outlive the rest, seasoning hurricanes, wars, and countless generations of playful children climbing it's branches. The acorn sprouts in conjunction with the collapse of Teotihuacan, one of the major cities in Mesoamerica with widespread influence in central Mexico. The Toltec civilization was unheard of, and would not flourish for another 500 years (1100-1521). Aztecs did not seize power until the 13th century.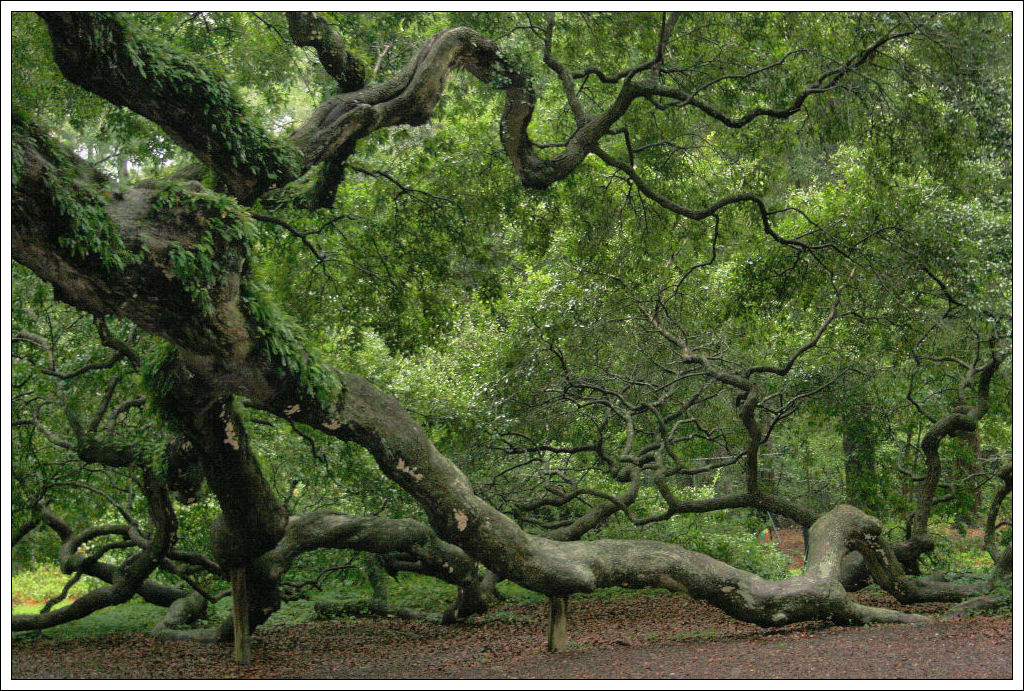 When this tree was 300 years old during 901 A.D., the Vikings discovered Greenland. In 1066 "William the Conqueror" and the Norman troups conquered England, altering the English culture forever by bringing French rule and rivalry with France until the from 1789 – 1799. Circa 1100 A.D. the famous Buddhist temple, Angkor Wat in Cambodia is constructed to house the Hindu faith. Around 1275 A.D. Marco Polo, the Venetian explorer and trader visits China via the Silk Road, returning to Europe with new foods and goods from the Orient which impact modern culture, medicine and dietary habits today.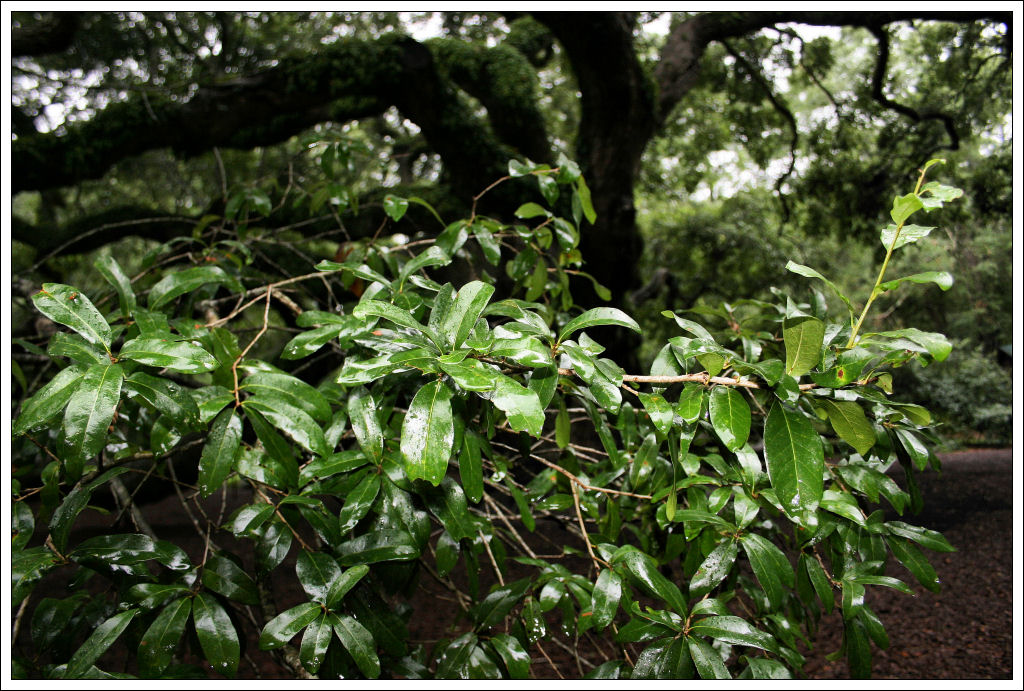 The Black Death devastates Europe around 1348 A.D., while the 740 year old Angel Oak thrives. Columbus and other adventurers would not claim to discover America for another 144 years (C. 1592). Leonardo da Vinci, a man light-years ahead of his time in the field of science and medicine through his various studies. By the time he would paint the Mona Lisa and Michelangelo would paint the Sistine Chapel, the Angel Oak has lived for 900 years. The Tree continues growth beyond the life of Galileo, father of modern Astronomy, and through the life of Shakespeare, who established some of the most famous English literature in our era (c. 1564 – 1616).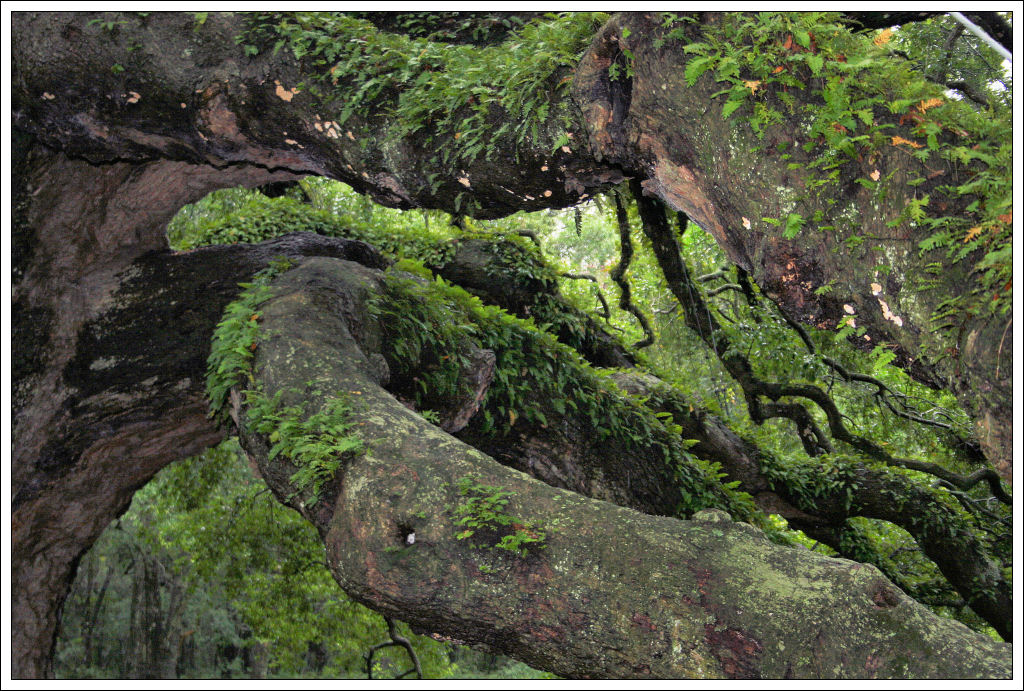 Year 1776 – Angel Oak is 1,166 years old when the U.S. breaks free from British rule and establishes the first Independence Day In 1895, and by the time the Angel Oak had already survived for 1,287 winters Sigmund Freud would bring modern medicine and humanity into a new open-minded age by announcing his theories of dream psychoanalysis and studies of the human psyche.
The First World War between 1914-1918 was followed by WWII, 1939 -45/51.
According to after the Category 5 Hurricane Hugo hit the coast of in 1989, Governor Carroll Campbell is reported to say that the storm destroyed enough timber in South Carolina to frame a home for every family in the state of West Virginia. All those trees and forests obliterated, yet the Angel Oak survived. It has since healed injuries inflicted by Hurricane Hugo.
The Angel Oak and the surrounding marked forest depend on each other. Thankfully, now the tree will remain host to a myriad of life forms like ferns, mosses, fungi, insects, amphibians and more. It alone supports an entire specialized ecosystem. It's an amazing, gorgeous tree!
---
---
---
---